1042 Queen St W, December 2006
Portraits of Queen West
An ongoing project documenting the changing face of Toronto's Queen West storefronts. Snapshots are posted online while I sort pictures, assemble city block collages and organize photos into books.
Prints
Buying prints helps support this project. Here is how to buy a print!
About the Book(s) Project
Queen Street from University Ave to its West end at Roncesvalles is about 5 km. I've travelled it countless times with a camera, collecting thousands of pictures of storefronts. I began experiments capturing complete blocks in 2003.
Currently I'm organizing a geographically narrow sample of these pictures into a book, the first of a series of volumes that will add up to all of Queen West.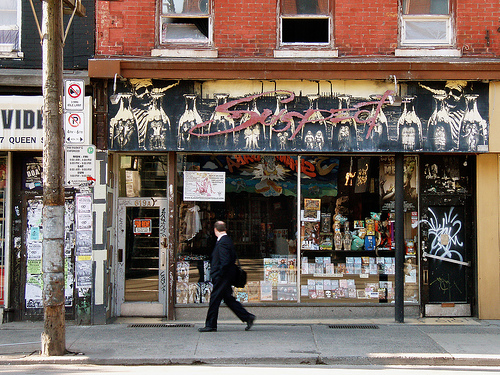 619 Queen St W, July 2006
Portraits of Queen West: Bathurst to Spadina
This is my first collection of photographs of storefronts of Queen West. Staring at a map I started to see how the whole street could be carved into smaller chunks, how to turn a huge job into smaller jobs I could actually get done.
For many reasons this book only covers both sides of the 600m between Spadina and Bathurst. This is 1.1 km of storefronts, about 150 addresses. The first block collage I completed is part of this stretch. The linear nature books and the street share creates opportunity for geographic clarity and discover the book's form.
I'm designing this first volume myself. (With my own words. As few as possible. Mostly addresses and dates.) Having the input and advice of Michel Vrana of Black Eye Books is ample support, though I'm sure a few more people will offer input along the way.
The Whole Street in Your Hands
I'm an artist, not a historian or urban activist. Photography and graphic design are my thing. I love the aesthetics of the documentary style. When digital brought me back to photography, and I started shooting storefronts, a subject available in abundance, I was only emulating earlier photographers.
Eventually I constrained myself to one street to manage scope and create opportunity for documentary value through accumulation, but I take the pictures because I like how they look; it's fun to capture rectangles and textures.
This volume doesn't set out to make a statement about gentrification. The classic storefronts that first caught my eye in the 80s were long gone before I started doing this. There is a story here of a street that is constantly changing, and some of the local shops giving way to bigger brands. But American Apparel, one of the first big brands to settle west of Spadina, peaks and dies herein while across the street the Cameron House remains defiantly local.
I'm just setting out to let you hold the whole street in your hands.
POQW: Beyond Volume One
For future volumes I'm open to possibilities, supplementary content or collaboration. I'm approaching the overall project more like a magazine than a book. There will be some specific design ideas that carry through every volume but I'm not going to hold future collections to rules I create for the first one.
Each volume is limited to a small sample of the pictures that I like and even smaller sample of the pictures that have documentary value. It's easier to cut pictures from a shortlist knowing I can use all the pictures I like in short films created primarily from aligning & sequencing stills showing storefront progressions, zooms into details, and pans across panoramic images. For volume one I'm sure I'll explore this idea a bit when we create promotional videos.
Eventually I hope to make available a database of all shots of documentary value or better, searchable by address and date range. That's a whole separate project I can't do alone, but identifying all the images for an address range is a byproduct of the book work.