The Colony

There was more to the Mac than HyperCard, of course. I distinctly recall being amazed playing 'The Colony' in 1988. I also remember being excited, challenged, and scared out of my wits, all by patterns of black and white pixels on a tiny Mac screen.
'The Colony' was the first flat polygon hidden surface first-person 3D shooter. The design was brilliantly minimal; the story was tailored to the strengths of David Smith's graphic engine.


In 1989, David Smith used technologies he developed for 'The Colony' to create visualizing tools used by director James Cameron for his film 'The Abyss.' The next year he developed Virtus Walkthrough, a real-time 3D design application, which was one step closer to his current project, Croquet, an open source real-time 2D/3D collaborative environment.
Action was set in the angular rooms and hallways of an alien-infested space colony. Aliens were floating, shrieking polygons, with eyeballs for heads — quite possibly the scariest creatures an 8 MHz computer could render on the fly.


The position of your cursor controlled the vector of your travel through 3D space. It was a bit awkward to learn, but very responsive once you got the hang of it. Unlike most modern 3D games which have simplified speed to run mode and walk mode, you had a much wider range of speed in 'The Colony.' You inched around corners, and ran screaming.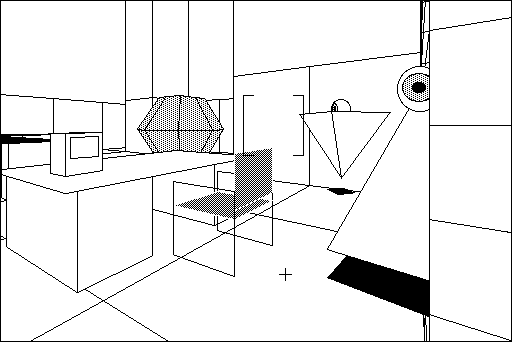 © 1988 MindScape

MacRecorder & SoundEdit

In 1988, the Mac had no built-in sound input. It would be years before the ability to digitize sound would be standard. This was a job for a super Mac peripheral and software maker called Farallon

(Farallon became Netopia in 1996, and is still a going concern making networking hardware.) who specialized in helping the Mac do things it couldn't do.

In January 1988, Farallon began shipping the MacRecorder Sound System. The sound input hardware also came with SoundEdit, a very good GUI sound editor

Mouse over to see the Effects menu.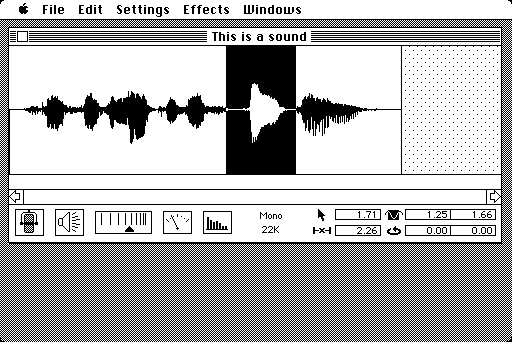 and even came with a set of HyperCard sound tools. Stack makers could now create their own alternatives to HyperCard's two sounds built in sounds.

Harpsichord. Boing. Those are the two sounds that came standard. They could be played at different notes, but you get sick of them after a while. (This is more foreshadowing.)