CD Companion to Beethoven's Ninth Symphony

In 1989, the Voyager Company

The new media publisher was already a pioneer with its Criterion Collection of laserdiscs.
published the first notable commercial CD-ROM, the 'CD Companion to Beethoven's Ninth Symphony.'
The Beethoven Companion linked a superb Vienna Philharmonic recording to an equally superb interactive HyperCard analysis, authored by scholar Robert Winter. Users could follow a complete measure by measure running commentary. The stack also included additional information about Beethoven's life and work.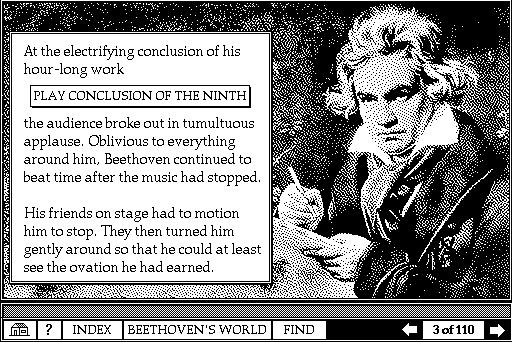 © copyright holder
Response was very positive. MacUser magazine called it "a brilliant multimedia experience that blurs the boundary between education and entertainment." Some people bought expensive CD-ROM drives just to use the program.
Peter Bogdanoff, programmer/designer of this CD-ROM,

(to this day he continues to collaborate with Robert Winter on interactive music projects) wrote to us last year: "I think what especially distinguished this program and many of Voyager's later products was that the content was developed by an excellent writer, especially for the medium. The immediate, interactive music/audio experience couldn't, and still can't, be achieved in any other medium, in the web or in real-life."

Dave liked this DIY detail Peter added: "In those days, knowledge of making an integrated data and audio CD-ROM was fuzzy, and licensing music for this purpose from a large record company like Philips was very difficult. So Voyager just purchased a crate of CDs and packaged them in."

Voyager Expanded Books

Apple sent Voyager a prototype PowerBook in spring, 1991. The form was very different than desktop computers, and immediately the Voyager team

Michael Cohen, Colin Holgate, Steve Riggins, Bob Stein, Florian Brody are all names associated with the project, but I'm sure the list is incomplete. This note reserved for future input from someone who was actually there. Colin Holgate has volunteered, once we are more specific about what we are looking for. was imagining electronic books.
In October 1991 the first three Expanded Books were released, for $19.95 each: 'Alice in Wonderland', annnotated by Martin Gardner, Douglas Adams' 'Hitchhiker's Guide to the Galaxy' (an inevitable choice), and Michael Crichton's 'Jurassic Park'.

© copyright holder
Expanded Books could be easily navigated, searched and annotated. Pages could be marked by dog-earing them. Passages could be hilighted. Support materials, activated by hypertext, added value.
Voyager Co.

was founded in 1984 by Aleen and Bob Stein.
During the period covered in our story, Voyager operated out of a studio in Santa Monica overlooking the beach, (where one of our partners, Fred, visited them on a west coast trip). ¶ In 1993, Voyager suddenly relocated to Manhattan, kick-starting the nascent NYC multimedia scene. ¶ Here is a fascinating time capsule, a scrapbook of photos and interviews with people at the Voyager Soho open house, in June 2003. ¶ A 1996 feature in Wired spans most of the company's story.
produced over 70 Expanded Books. In 1992, they made the Expanded Book Toolkit available. The format was used, by many academics and other authors, for much of the 1990s.


The Expanded Book format outlasted Voyager who shut down in 1996. The Voyager brand is still associated with electronic books, today. It is still used by a sister company that formed in Japan, where e-books have been a consistent industry.

The Last Days of Black & White

We were starting to get more interactive work, and did a number of projects in black and white. Most memorable was a software catalog

MacLibrary was our first 'big' stack client. Sophie and Jim Macallister were entrepeneurs that loved the Mac, and believed a HyperCard catalogue was exactly what they needed for their software dealership to take off. When they saw The Mackerel Stack, they knew exactly who they wanted to make it. The catalog contained over 300 software titles, and fit on a diskette.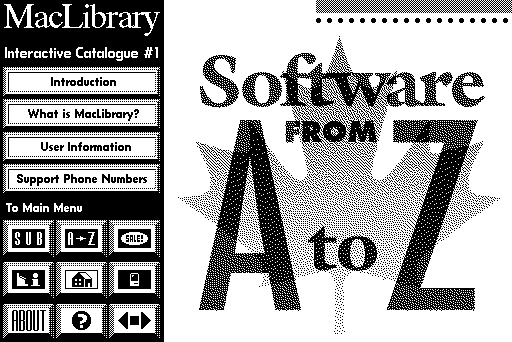 The design included dozens of icons, for software categories, navigation and even to display software requirements. The design relied on icons to reduce clutter and provide personality, but provided text rollovers to help people navigate.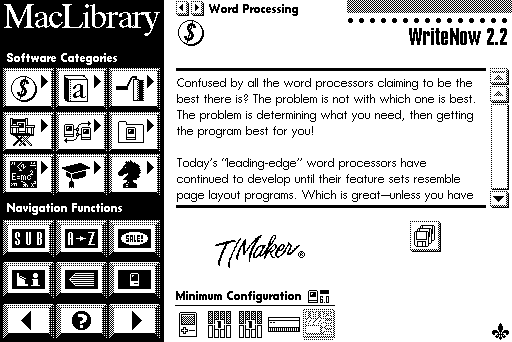 Customers completed their order using the stack, and then faxed it to MacLibrary.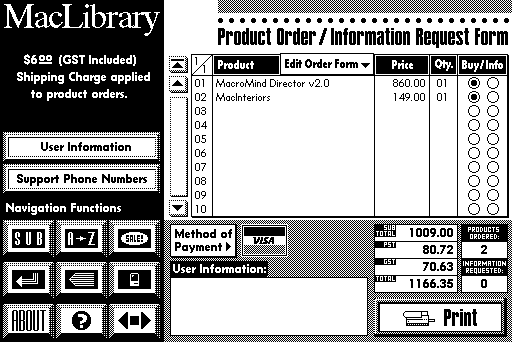 MacLibrary continues today as an Apple value added reseller.
but we also made a few small brochure stacks.


The client, a small ad agency, supplied full body shots of their team. We felt compelled to use the entire shots.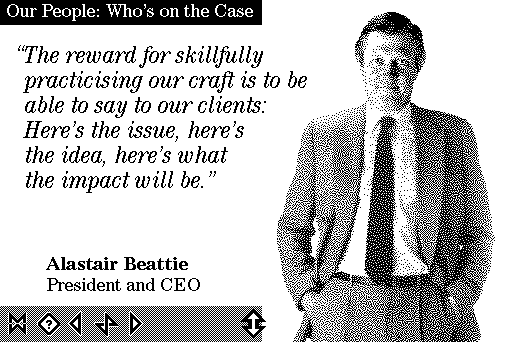 Some clients wanted a slide show on a disk.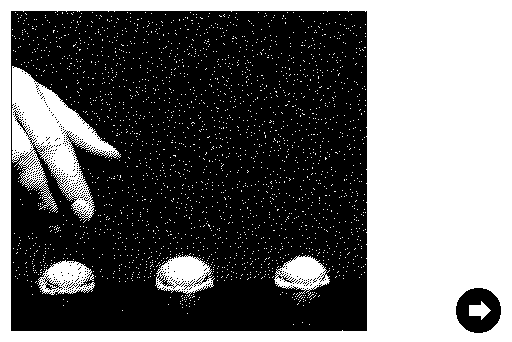 I can barely remember making this odd little corporate brochure.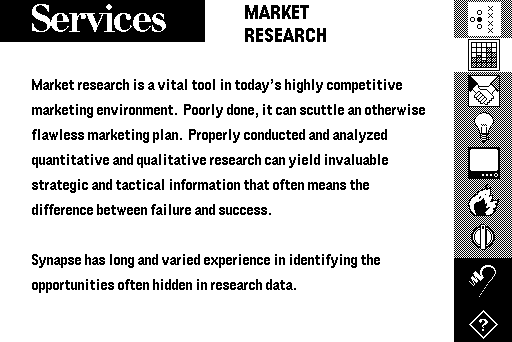 Colour Macs started to appear, and so did alternatives to HyperCard like Director

Within a few years Director

would become the defacto standard for cross-platform multimedia development. ¶ Director started out as an animation program called VideoWorks, which predated HyperCard. Scripting and colour capabilities were added, and the program was renamed Director. ¶ MacroMind (now MacroMedia) was promoting multimedia long before most people knew what it was. However, Director was initially unappealing for some creators because of a confusing and prohibitive distribution license. Others avoided the tool because they felt it presupposed what interactive multimedia was, tying it to a timeline. The driving force of early Director was its timeline and animation tools, while HyperCard waited for user input. ¶ For more info: An Unofficial Brief History of Director
and SuperCard.

SuperCard was based on HyperCard, allowed importing of HyperCard stacks, and it supported colour and a broad range of features. ¶ The owners

(The program, developed by Bill Appleton, was owned by Silicon Beach, which was bought by Aldus, who were in turn swallowed by Adobe, and inevitably the SuperCard project was barely on the corporate radar. Allegiant, which included some of the SuperCard team, was formed to take over the product. ¶ By this point, interactive multimedia developers had abandoned SuperCard, mostly for the cross-platform Director. Allegiant did manage to get a release out the door that kinda sorta worked on Windows, but by then it was too little, too late. Today, SuperCard remains a Mac-only product.) of SuperCard would eventually fail to produce a cross-platform solution and get distracted by the internet, and the tool disappeared from most multimedia development. It eventually found its niche as a tool for rapid application development on the Mac. ¶ Today, a tool called RunTime Revolution, based on HyperCard and its progeny, is multiplatform, internet savvy and powerful. In some ways, Revolution is more like HyperCard than any previous offspring.
Some authors still worked in black and white to reach the largest audience of Mac users.


'Exotic Japan' combines language learning with cultural studies in a multimedia introduction to Japan. A native speaker teaches key phrases and narrates other sequences. Black and white graphics are more than enough for Kanji characters to come to life to illustrate the ideas they represent. This CD-ROM was authored in HyperCard by Toronto's Nikki Yokokura in the early 90s. A colour version was released by Voyager in 1994.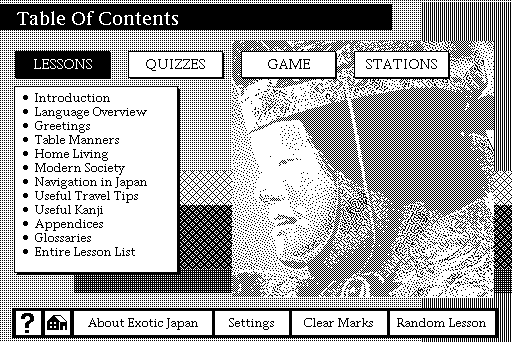 © copyright holder
Our first opportunity to use SuperCard commercially became our last black and white multimedia project. We had a weekend to create a market research questionnaire and database, designed to run on classic Macs at a trade show.

Technically, it was our first public kiosk, although the public did not actually access it. Tetley representatives asked the questions, and operated the mouse, with members of the public standing beside them. Zippy animated transitions and some of our favourite sound effects helped draw people to the Tetley display.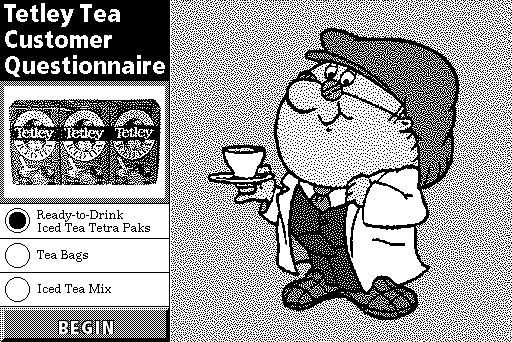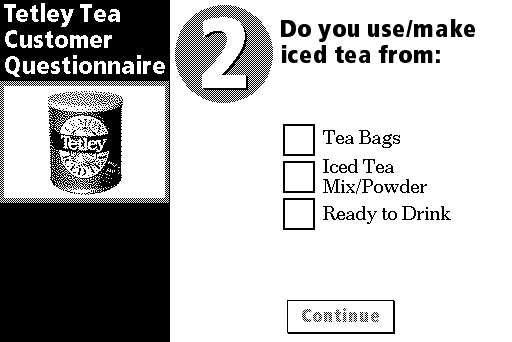 With all eyes on the little Mac screen, it was important to be polite.


And thank you for reading this chapter.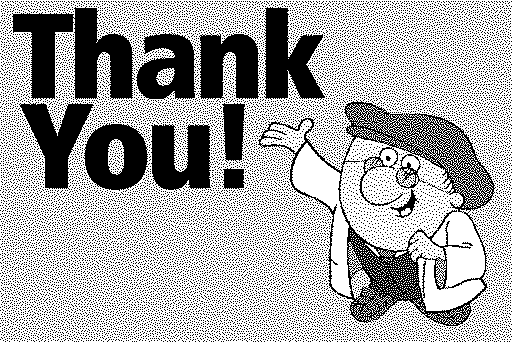 Tetley is a registered trademark of Tetley GB Limited
By this point we were well into the 1990s. For the next few years we would be facing... CD-ROM Madness!

February 2005
I am going to stop tinkering now. When is a hypertext done?


03.01.05: Fixed wonky clicking, and a few typos.
02.26.05: Added notes regarding SuperCard and Director, written while listening to XTC vs. Adam Ant by TMBG, which seemed appropriate.
02.23.26: There are a couple of small sections that are left out for now that might be added later. There are some inconsistencies with the note system and formatting based on the fact that we are still working through ideas. Some graphics may be adjusted.
Objects in mirror are closer than they appear.
And please, if you are looking at this in Explorer,
take a look at it in another browser.



June 2018
Online again! This came down when the Smackerel site came down some years ago. I have managed to debug, I believe, thirteen year old code that was no longer working as expected. The text is unchanged except in a few obvious places like this note. Since this article was first published, the 25th anniversary of HyperCard came and went. There is some renewed interest, and many stacks are available at archive.org.